We first start the process of painting the exterior of your Wickenburg area home or business by power washing the exterior.
Then we make all necessary repairs to the stucco or other exterior surfaces by filling cracks, nailing down lose boards, and caulking all doors and windows.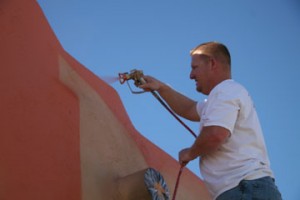 Then protect all plant life and non painted surfaces by masking off areas, covering them in plastic and pulling back all dirt and rocks around the foundation of your home or business.
When we are finally ready to apply your finish we spray, roll, and brush all surfaces proving you with a quality, durable finish that will last for years.
And we just don't just stop there!
We take that extra step to make sure that our services exceeds your expectations by checking every detail with you and cleaning up after ourselves by removing all trash.
In effect the only way that you will know that we have ever been to your home or business is from your sparkling new paint job that will be the envy of all your neighbors.
Other Services we provide include;
Elastomeric Coatings
Elastomeric coatings is much thicker then typical paint that will provide a flexible layer that seals cracks and waterproofs surfaces and will last many times longer.
Our elastomeric coatings can fill cracks up to 1/16" and will stretch up to 600% to cover any imperfections and provide you with a smooth finish.
In extreme cases, where cracks are larger then 1/16th of an inch, we will use nylon mesh to create a permanent "band aide" to seal all of these gaps and cracks.
Roof Coatings
Did did you know that maintenance on your roof could account for more than 80% of your total home's maintenance cost?
Also the Arizona sun will cause your utility bills to go through the roof if it is not properly maintained?
You can keep your roof cool and dry by having our Elastomeric coatings applied.
Studies have documented that elastomeric roof coatings can save you as much as 25% on your cooling costs therefore keeping you and your home cool.
Stucco Repair
Got cracks?
We have years of experience in paint and stucco repair and understand the requirements to properly texture it to match your existing surface and painting the surface so it matches the existing colors of the exterior surfaces of your home or office.
Water Damage
Did you know that left untreated that water damage to your drywall or other interior surfaces of your home could be hazardous to your health?
We can work with your insurance company to repair any damage to the interior or exterior of your home or office and return it to looking new again.
Popcorn Ceiling Removal
Tired of that 70's popcorn look on your ceiling?
Popcorn ceilings is dated but also can be a health hazard as it attracts dust and other particles which will effect the quality of the indoor air of your home/office.
We can remove your popcorn texture and replace it with a more custom up-to-date texture that may also alleviate some of the allergy symptoms that you or your family maybe experiencing.