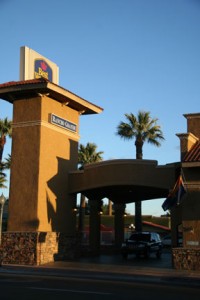 In a growing city like Wickenburg there are countless commercial businesses to go to for any service. In order to maintain both a professional work environment for personnel and a welcoming space for clients, commercial businesses usually need one of the many Wickenburg AZ painting contractors to help enhance their space.
Leading the commercial painting industry in the Wickenburg area, Mills Painting LLC is a family operated business that is dedicated to promoting the type of image you want for your business.
Like our residential painting services, our company's commercial painting in Wickenburg is of the highest quality and is backed by our warranty. We are licensed and bonded commercial Wickenburg painting contractors that will work directly with you to make sure that the end result is exactly what you imagined. Whether we are working on an interior or exterior project, Mills Painting is the best painting contractor in the Wickenburg area.
Our company has an extensive portfolio of commercial painting in Wickenburg that includes the Wickenburg Chamber of Commerce train depot, the Best Western Motel and the Jeep Tour complex completed by our Wickenburg painting contractors to browse.
Contact us now and get a your free price quote and 10% off coupon or for further information on any commercial painting service today!